First of all, Happy New Year 2010 !
A while ago, our friends from IconShock offered us the opportunity to have a free icon pack designed especially for our readers. In the small survey we conducted you choose "System Replacement" as the main theme for the new icon pack.
The icon pack is now ready, and contains 5 PNG icons at 256×256 pixels and also the Illustrator(AI) source file. In this package, you'll find the following icons: Media Player, Firefox, HDD, PC and Folder.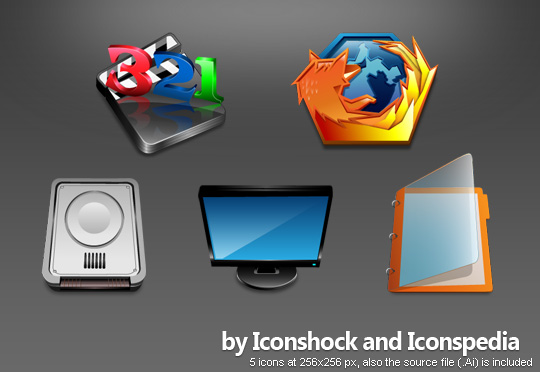 License: You can use these icons on any personal or commercial projects as you want, as long as you DO NOT sell or redistribute the icons. Please share the icons by linking to this article.
Download the icon pack (.zip, 1.88 MB)
IconShock sells royalty free icons and also offer custom icon design services, we recommend you to check them out !
Are you a designer or artist? Don't hesitate to contact us, we would love to help you publish your work.