Good news for everyone! Your favorite designer MadOyster strikes again with a lovely set of 15 Popular Anime Icons for all you Japanese series fans out there! This colorful set offered for free by Iconspedia gathers fifteen famous anime characters, such as Kid Goku, Aang, InuYasha, Naruto or Death the Kid, names that should be familiar for those of you who like watching popular anime series. The icons are offered at 256×256 pixels, a good image quality for best maneuverability.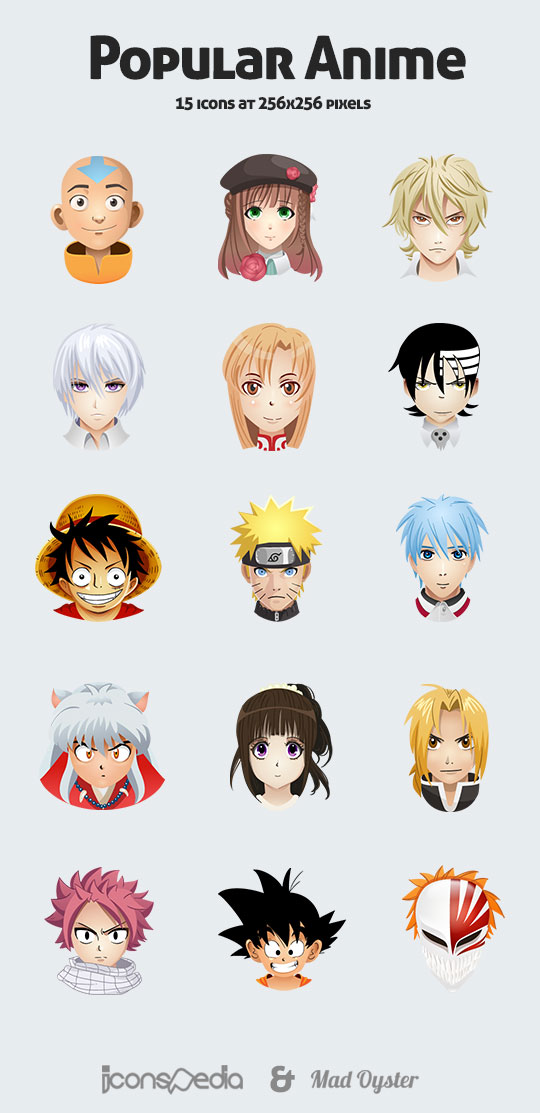 These anime characters' faces are perfect for a cheerful and playful app you might want to design for children or anime fans, but also for any kind of website which is anime-friendly. Their wide eyes, colorful accessories and crazy hair-styles will bring a boost of vitality to your work and also a better mood for your clients or viewers.
After all, who in this world doesn't like animated characters? They are the representatives of fascinating imaginary worlds which humans create as fictional alternatives to reality. It's a pleasure and a fascination to sink into a parallel imaginary world from now and then, especially if it's connected with the universe of childhood. For the ones of you who would like to promote such imaginary worlds through websites or phone apps, our anime icons are just perfect.
The Anime Icons set is provided in PNG, ICO and ICNS formats, in order to give you more options of usage on your websites, templates, themes or software of any kind.
These icons are released under Creative Commons Attribution 3.0 License. You are free to use them on both personal and commercial projects.
You can share them to others if you link to this article, this way making everyone happy!
Download and enjoy the Popular Anime icon pack.
We are still looking for talented designers or graphic artists, so please don't hesitate to contact us if you would like to see your work published on IconsPedia.com.